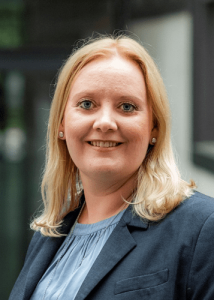 Head of the Scientific Advisory board and Deputy Chairmwoman of the Board
Prof. Dr. Sandra Rochnowski

Prof. Sandra Rochnowski, MBA, is a travel agent and business economist with over 15 years of experience in tourism and applied science. After studying business administration with a specialization in tourism, Prof. Rochnowski gained experience as head of marketing in health tourism at METTNAU, medical rehabilitation facilities of the city of Radolfzell. In Austria Prof. Rochnowski worked as Marketing Manager in the Head Office of Vienna International Hotels (today Vienna House) and Interim as Director of Sales & Marketing with project management in various properties. In 2010 she joined TUI Hotels & Resorts, the brands Iberotel & Dorfhotel, as Head of Marketing & Sales for Mecklenburg-Vorpommern and was also responsible for destination marketing for Land Fleesensee and Weiße Wiek. While working, she completed an MBA Tourism & Hospitaltiy at the Schmalkalden University of Applied Sciences and the ESERP Business School Barcelona. She wrote her master's thesis in collaboration with TUI Hotels & Resort of the Iberotel brand on the subject of climate neutrality in the hotel industry.
In 2013 Prof. Rochnowski moved to the Heilbronn University of Applied Sciences where she worked as a research assistant in the tourism industry department. Among other things, she taught the main subject "Sustainable Tourism" or "Health Tourism" and initiated and moderated the first Sustainability Symposium in 2016 with business and science representatives. She wrote her dissertation on "Health management as a personal resource of lifestyle modification – an empirical consideration of health-promoting measures and nudges and their potential for managers in inpatient settings in Germany" ("magna cum laude", Leuphana University Lüneburg).
In October 2018, Ms. Rochnowski accepted the appointment as Professor of Tourism with a focus on Hotel Management at SRH Berlin University of Applied Sciences, Dresden School of Management. In October 2019 she moved to the Berlin State University of Economics and Law, HWR, as Professor of General Business Administration, especially Tourism Business Administration. The HWR is one of the UAS7, the strategic alliance of seven leading universities of applied sciences in Germany, committed to the highest quality standards in teaching and research. The aim of their practice-oriented teaching is to enable students to develop a sustainable understanding of values and to establish networks with the hotel and tourism industry at an early stage through cooperative projects. Prof. Rochnowski is committed to the voluntary transfer of knowledge and the promotion of sustainable management for training occupations in the hospitality industry.
Prof. Rochnowski is an expert in the field of management systems sustainability (EMAS/ISO 14001, environmental auditor ISO 19011) and quality (ISO 9001, quality representative, auditor, additional qualification: occupational and social medicine) at company and scientific level. She developed GreenSign (specific management system for the hotel industry) or GreenSpoon (guideline based on the 17 UN sustainability line for sustainable management in gastronomy).
In 2018 she and Yvonne Jamal founded the JARO Institute for Sustainability and Digitisation e.V. Prof Rochnowski is scientific director, head of the scientific advisory board and advises tourism players and companies, especially in matters of sustainability.
Her research focuses on occupational health management, nudging and sustainability/sustainable tourism. She is also active as an author and speaker.