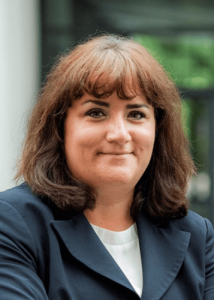 Chairman of the Board
Yvonne Jamal

Yvonne Jamal holds a BA in Business Administration and has more than 15 years of experience in the tourism industry. In recent years, she has held a leading position in indirect purchasing at Zalando and since then has been involved in the field of sustainable procurement as an honorary regional board member of the Federal Association for Materials Management, Purchasing and Logistics (BME).
After starting her professional career as branch manager of a travel agency, she spent several years abroad for the tour operator TUI. In particular, the time in the Maldives and the ecological challenges of this country sparked her interest in sustainability issues. Later she worked for many years in Key Account Management (B2B) of large, well-known hotel groups (Hilton, ACCOR, TUI Hotels & Resorts) and as an entrepreneur internationally in the MICE area. In her last position as team leader in indirect purchasing at Zalando, she was responsible for the introduction of a digital travel expense accounting and a digital purchasing solution and was nominated with your team for the eSolution Award of the Federal Association of Materials Management, Purchasing and Logistics (BME) in 2017. In order to qualify in the field of sustainability, she completed the scientific advanced training "Sustainable Business and CSR" at the University of Rostock.
Yvonne Jamal is a guest lecturer at the SRH Hochschule Berlin, Campus Hotel-Akademie Dresden. She is particularly committed to sustainable procurement and also supports this topic on a voluntary basis as part of various events as a board member for the BME region of Berlin Brandenburg. In order to fully devote herself to the topic, she now works full-time for the JARO Institute. She is currently researching for her dissertation in the area of ​​sustainability controlling for procurement.